The new v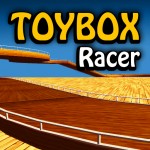 ersion of TOYBOX Racer has just been approved and released in the App Store!
Version 1.2 includes new track uploading and sharing features! Share tracks with friends! Browse and race tracks that others have shared! Check out the exciting new look and feel — improved visuals, updated graphics and menus, new sound track, and much, much more…
Make sure to check our TOYBOX Racer page for more information about Version 1.2, new screenshots, and recent reviews.