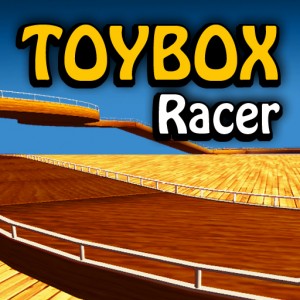 TOYBOX Racer  /  Build Your OWN Tracks  /  28 races on 17 ready-to-play tracks
Available for iPod/iPhone in the App Store!
BUILD YOUR OWN tracks and race on them! Ultimate creative power meets good old-fashioned toyroom fun! With 38 unique wooden track segments and jumps to choose out of the digital toybox, you can design your own 3-D race tracks AND drive them — or race against other cars or against the clock!
Upload your latest tracks and share them with friends! Browse and race tracks shared by others!
TOYBOX Racer includes 28 races on 17 ready-to-play tracks!
TOYBOX Racer is available in the App Store!
You can also try out the web demo version of the game for free!
TOYBOX Racer is created by Ian Deane.
TOYBOX Racer Reviews:
"Top 5 Apps of the Week" on iHeartThisApp!
"This app is brilliant for kids with a passion for creating & building"  KidsAppWorld
I really enjoyed the creative aspect of the game as well as the visuals…
Being able to build tracks with lots of materials and ride them is an awesome idea… I also enjoy having pre-loaded levels to show all the stuff you can make.
This is what Aidan (my 6yr old son) has to say about Toybox Racer:
"I really like that game! Now, I know how to drive a real car!"
I love that I can build my own tracks and drive them. The track editor is easy to use, and I can save lots of different tracks and go back and work on them later…
My boys (age 15 and 12 ) absolutely LOVE Toybox Racer! Great interactive  and  thinking  game.
Loved it! It is challenging and really fun!
In the midst of mindless games that require you to fling birds at pigs or zombie shoot 'em ups, Toybox Racer is a fresh breath of air. It's an amazing game that requires actual imagination and planning. Not exactly chess, but this game is wonderful.